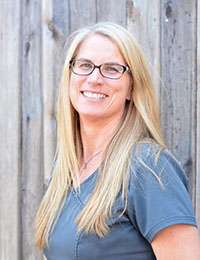 Stacie Lazarcheff – Practice Manager
Stacie grew up in Ahwahnee. She attended Fresno Pacific University, graduating with a BA in Management and Organizational Development in 1998. Stacie married Dr. Lazarcheff in 1999. They have 2 children, Gabby and Wyle, a German Shepherd named Stark, an Australian Shepherd named Meg and 2 cats, Rod and Kit. In her free time, Stacie enjoys playing tennis, camping and spending time with her family.
Did you know…
The Hawksworth Tree, a giant Sequoia in Nelder Grove, is named after Stacie's Grandparents.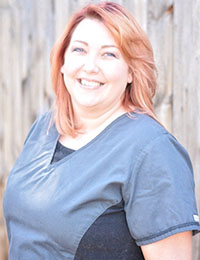 Christi Long - Lead Receptionist
Christi is our Lead Receptionist. She is a very proud Mom of 3 beautiful children, Ethan, Katie and Eli, and enjoys hiking in the Sierra National Forest, camping and lounging on the beach in Santa Cruz. Christi has a lap dog named Zena, two cats, Kora and Archimedes, and a Beta Fish named Flo.
Did you know…
Christi's personal trainer in high school was Dave Draper, the Blonde Bomber. He taught Christi that form is key.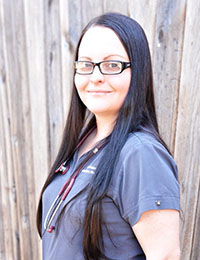 Kelsey Kemp – Veterinary Assistant
Kelsey joined the Oakhurst Veterinary Hospital family in June 2011. She attended college for pharmacology and has continued her education in Veterinary Medical courses throughout her years in practice. She enjoys spending time with her daughter, 3 dogs and 2 cats.
Did you know…
Kelsey has been working in the Veterinary field since she was 17 years old.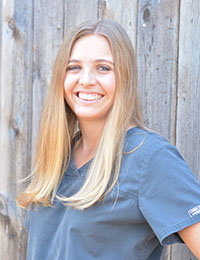 Morgan Tramontin – Receptionist
Morgan has studied at Feather River College Merced, Foothill College, and American River College. What excites her most about her work is getting to help clients and patients. Morgan enjoys riding horses, camping, fishing, riding ATV's, and taking the family boat out.
Did you know…
Morgan knows every line from TV show, The Office, by heart. It's her favorite show.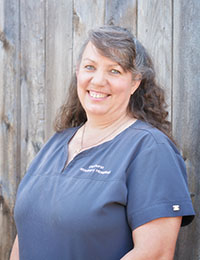 Shannon Bratton - Veterinary Assistant
Shannon moved to the Oakhurst area in 1977 and attended Yosemite High School graduating in 1990. After high school, she attended Jan Joaquin Valley College for Veterinary Technology. Oakhurst Veterinary Hospital began Shannon's career and dream of being a technician in 1991. She enjoys her busy life, especially her son Daniel. She has 4 dogs, 3 cats and a Pot Belly Pig named Isabelle.
Did you know…
Shannon's favorite thing about working at Oakhurst Veterinary Hospital is seeing the animals and making new friends.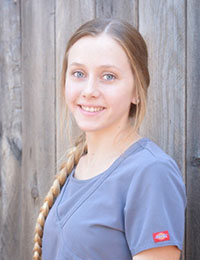 Taylor Marsh - Kennel Tech/Assistant
Taylor graduated from Oakhurst Community College and continued her education through an online Veterinary Assistant Course at The Animal Behavior College. Taylor comes from a family of 10 and has two cats, Mya and Biscuits, and a dog named Spalding.
Did you know…
Taylor is vegan and does not eat anything that comes from an animal. She does her best to use Vegan/Cruelty-Free products in all aspects of her life.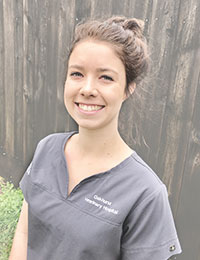 Rachel Barnett – Veterinary Assistant
Rachel was born in Ahwahnee, California. She lives on a working cattle ranch and tends to the many responsibilities there. She obtained her Associate of Science in Veterinary Technology in 2012 and plans to obtain her Registered Veterinarian Technician license. When not working as a technician she enjoys camping, riding horses, and spending time with her family.
Did you know…
Rachel has been working at Oakhurst Veterinary Hospital since 2012.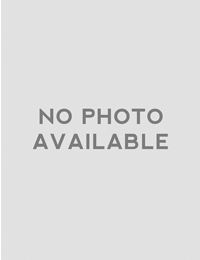 Michaela Henslee – Veterinary Assistant
Michaela has been motivated to work in the veterinary field since she was 4 years old. Her passions are dancing and horses and hopes to advance her education in the future in the equine field. Michaela moved to the area in 2005 to complete high school and was married in 2015.
Did you know…
Michaela teaches Irish step dancing.