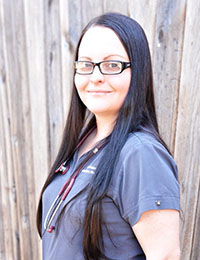 Kelsey - Practice Manager/RVT
Kelsey obtained her Registered Veterinary Technician license in 2020 and is currently pursuing a National Certification in Practice Management. Kelsey has been in the veterinary field since 2005, having worked in all aspects of a small animal practice over the years. Kelsey genuinely enjoys watching the relationships between patients and clients develop with our hospital staff. We genuinely love how she keeps the practice organized and efficient! In addition to loving her job at Oakhurst Vet, Kelsey loves spending time with her daughter, reading, and caring for (and spoiling) her three rescue cats and three rescue dogs.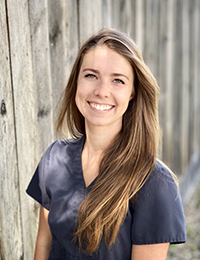 Rachel - RVT
Rachel holds an Associate Degree in Veterinary Technology and has been in the field since 2012. Rachel loves working with animals and her fabulous coworkers - and we feel the same about her!
Her hobbies include photography, working at her ranch, and spending time with family and friends.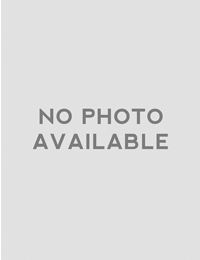 Tasha - RVT
Tasha graduated from San Joaquin Valley College with her RVT license in 2016 and is currently attending California State University, Fresno seeking a degree in Community Health. While Tasha loves all aspects of veterinary care, she is absolutely passionate about proper dental care and dental health for your pets. Doing detailed procedures and educating clients on the best care for their pets is something Tasha thrives at. When she's not studying, she loves watching horror movies, reading, and hanging out with her dogs and cats.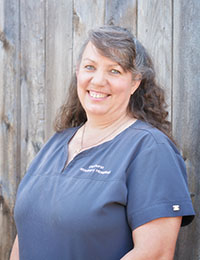 Shannon - Veterinary Assistant
Shannon moved to the Oakhurst area in 1977 and attended Yosemite High School graduating in 1990. After high school, she attended Jan Joaquin Valley College for Veterinary Technology. Oakhurst Veterinary Hospital began Shannon's career and dream of being a technician in 1991. She enjoys her busy life, especially her son Daniel. She has 4 dogs, 3 cats, and a Pot Belly Pig named Isabelle.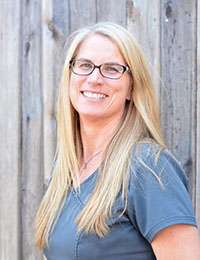 Stacie – Business Manager
Stacie grew up in Ahwahnee and graduated from Yosemite High School. She attended Fresno Pacific University, graduating with a BA in Management and Organizational Development in 1998. Stacie married Dr. Lazarcheff in 1999 and they have 2 children, Gabby and Wyle. Rounding out their family is a German Shepherd named Stark, and 3 cats, Kit, Mac, and Jac. In her free time, Stacie enjoys playing traveling, tennis, camping, and spending time with her family.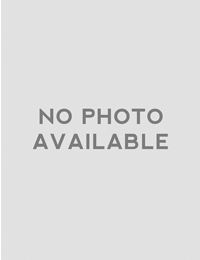 CeCe - Lead Veterinary Assistant
CeCe graduated from San Joaquin Valley College on the Dean's list and has been a Veterinary Assistant for five years. CeCe loves getting to learn new things and always enjoys meeting her different pet clients, who adore her right back. She loves hiking gardening and walking her dogs. CeCe is engaged and currently planning her wedding with her fiancé David in her spare time. CeCe and David have three dogs, one rat, a bearded dragon, and three goldfish.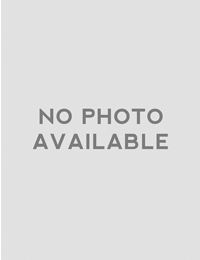 Tori - Veterinary Assistant
Tori graduated from Yosemite High School and is currently working toward her Associate's Degree in Veterinary Technology at San Joaquin Valley College. She is a wonderful asset to the team and her love of learning and helping her animal patients is apparent to all who work with her. During Tori's time off from the hospital, she loves reading, hiking, and heading out on her paddle board. She currently has three pets: one brown tabby cat named, Willy, a dachshund named Hudson, and a Great Pyrenees mix named Shelby…and FUN FACT, all of them are named after cars!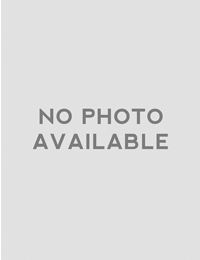 Kimberly - CVAL
Kimberly recently graduated from San Joaquin Valley College and has been in the field for one year. The things that most excite her about her work are being able to help treat patients and see them grow and thrive. Kimberly loves hanging out with her cat, Gus, hiking, playing video games, and being around friends and family.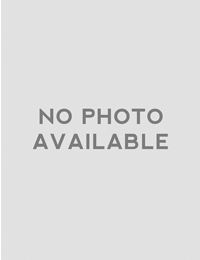 Denise - Lead Receptionist
Denise graduated from Yosemite High School and has been working in the veterinary field for four years. Her ability to make sick or injured pets feel comfortable and calm while learning more about her clients is invaluable. Denise's interests include horseback riding, fishing, skiing, and pretty much anything out in nature. She has two adult children Michael 22 and Courtney 20 whom she loves spending time with. Denise is passionate about watching your pets grow and thrive and is always here to help!