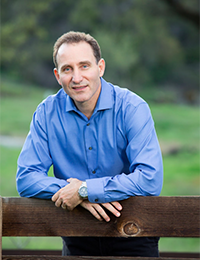 Kevin D. Lazarcheff, DVM
Dr. Lazarcheff is a native of Reno. He attended the University of Nevada, Reno, where he received a Bachelor's of Science in Veterinary Science. Following his graduation from the University of Missouri College of Veterinary Medicine in 1993, Dr. Lazarcheff opened a small animal practice in Reno, NV.
Dr. Lazarcheff has practiced both small and large animal medicine over the years, practicing in Nevada, California and Washington. Before acquiring Oakhurst Veterinary Hospital in April 2017, Dr. Lazarcheff practiced Emergency and Critical Care Veterinary Medicine in the Central Valley. He was the previous Governor of District 5 and Past-President of the California Veterinary Medical Association and is currently a member of the Multidiscplinary Committee for the California Veterinary Medical Board.
Dr. Lazarcheff and his wife, Stacie, were married in 1999 and have 2 children. When not in the office, Dr. Lazarcheff enjoys camping, running and gardening and spending time with his pets.
Did you know…
Both of Dr. Lazarcheff's parents were professional wrestlers.